It has been about six weeks since our performances of Cuatro Corridos in Tijuana, B.C., Mexico and at the Nasher Sculpture Center in Dallas, and it's time to share some impressions and to say thanks, once again, to a group of special people.
I sit down to write about the experiences of performing in Tijuana, and one word keeps coming to mind. That word is "magic". As those of you familiar with this project already know, Cuatro Corridos is based on a true story - one that took place in the San Diego/Tijuana border region. After our performances at UC San Diego in May, I wanted very much to bring the project to Tijuana. "Want" is actually not the right word; I thought it was crucial. I had no idea how we would accomplish this; but I did know that, somehow, we needed to do it. After talking with my team (Ruby Cougler and Susanna Waiche Pores, two women who don't know the meaning of the word 'impossible'), we went to Tijuana to look around. I've written in another post about that experience. There were vibrant, hauntingly beautiful spaces, full of possibilities - but none that would accommodate the needs of the production. We couldn't transport a grand piano and two tons of percussion up three flights of narrow stairs. We wouldn't be able to control the lighting in the pasajes. I was beginning to think that it simply wasn't going to work, and this dream would have to wait to be fulfilled.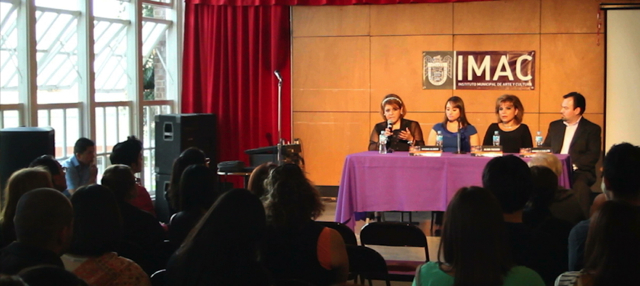 Then we met two of the most special people on the planet: Carmen Garcia Montaño, Director of the Casa de la Cultura and Walter H. Padilla Ramírez, the Binational Liaison of IMAC. We visited the Casa de la Cultura and proposed the idea of the opera and a forum on human trafficking. They were enthusiastic and supportive; we saw their newly refurbished theater with beautiful acoustics. From the technical staff who helped with our setup to the cafe staff who made tasty meals, everyone at the Casa de la Cultura and IMAC helped us. They supported us every step of the way. Through the graciousness of the Baja California Orchestra, and three distinguished musicians from the Centro de Artes Musicales - Maestros Jorge Fernando Peña, Hector Octarula and Gibrán Resendiz, we were able to obtain the huge battery of percussion that the piece needs, no mean feat.
Our project has two components: performance of a modern opera and a forum on human trafficking. For our Tijuana performance, Walter played an essential role, extending the invitation to Yetzira Shandiel Alonso from the Estudios y Servicios para la Mujer y el Niño, A.C. (Grupo Apoyo), Sara Amelia Espinosa Islas from the Universidad Iberoamericana de Tijuana and the two of the leaders of the International Network of Hearts, Alma Tucker and Manolo Guillén. A very special woman named "Rosa" accompanied Alma and Manolo. "Rosa" had been trafficked and offered a personal testimony. We are deeply grateful for her act of courage, and to all the forum participants, who generously gave of their time to present a pre-performance forum at the cafe in the Casa de la Cultura.
Walter and Carmen did an incredible job of helping spread the word about Cuatro Corridos. The forum was completely full, and our opera had an audience of approximately four hundred people. Through the generosity of the MAP Fund for the Performing Arts/Doris Duke Charitable Foundation, we were able to present Cuatro Corridos free and open to the public. I was happy to see a number of friends and colleagues from north of the border at the performance, and meet so many people from the Tijuana community. People thanked me for bringing this project to the Casa, but really, I am the lucky one. Art is alive when it brings people together. How remarkable to find so many extraordinary people committed to helping us make this project happen. We were truly welcomed, with the kind of warmth and graciousness that resonates long after the day is over. I still feel it.
Within a week, we traveled to Dallas, Texas to present Cuatro Corridos on the prestigious Soundings Series at the Nasher Sculpture Center. We are truly grateful to Jeremy Strick, Director, Jill Magnuson, Kristin Miller, and the wonderful staff at the Nasher for helping us to present our first performance in a non-traditional space.
Through creative use of elegant in-house wooden platforms and the lighting equipment that travels with the show, our production team re-created our set elements, and adapted our production to fit into the intimate, acoustically fine setting that houses this wonderful concert series.
I am especially grateful to Seth Knopp, Artistic Director of Soundings. Seth saw the project in its early stages during our Artist Residency at Yellow Barn, and was committed to bringing the fully-staged production to Soundings. Seth was also instrumental in organizing our post-concert forum by connecting us with two remarkable people from Mosaic Family Services, Tasha McGhie, Human Outreach Coordinator and Bill Bernstein, Deputy Director. Mosaic is one of the primary NGOs working with victims of trafficking in the Dallas Metro Area. Tasha and Bill contributed so much to the discussion, sharing insights about the challenges that confront them. They described the complexities of working with individuals who have been trafficked and spoke about what ordinary citizens can do to make a difference. As always, I came away with a much deeper understanding of the complexities of the issue and with yet more admiration for those who address it on a daily basis. There's so much still to do.
I'm so happy to be able to share this short video about our Tijuana experience made by Miguel Buenrostro and his Reactivando Espacios team. I am honored to be working with these excellent filmmakers. Our journey continues. Thanks to those of you who have shared words of support and encouragement for our project. We are proud to play a part in the worldwide movement to eradicate human trafficking.
My thanks to my wonderful team who helped us put these two performances together, Katie, Kristin, Sam, Ruby and Susanna - and to my amazing colleagues, Aleck, Pablo and Ayano, for inspired music making and to my husband David, who makes everything possible.